Property Appraiser for St Johns County is constitutionally mandated to assess the real and tangible personal properties, as well as administer exemptions. To achieve these goals, the property appraiser team consists of experts in appraisal, deed and property ownership, GIS mapping, information technology, and database administration.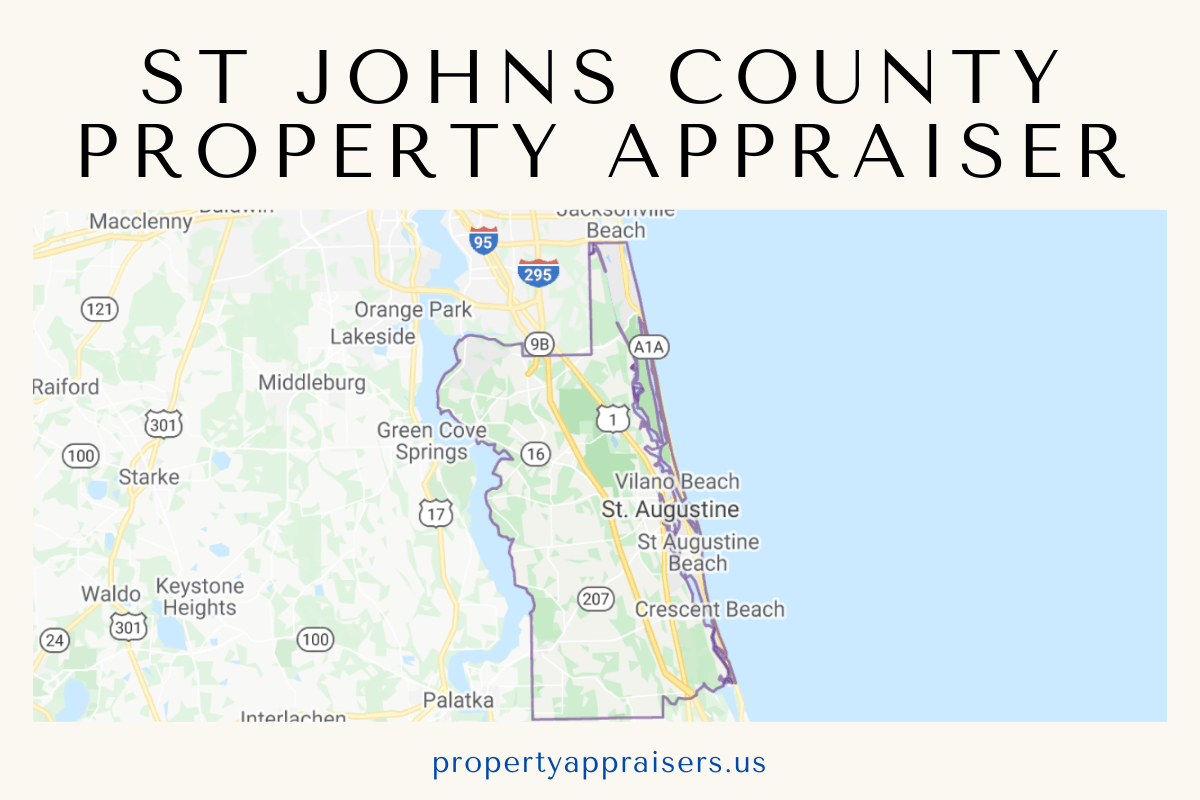 A combination of on-site property inspections, aerial photography, recorded sales, construction cost data, and mapping technologies are used by the Property Appraiser's Office to determine property values. If you are interested in more property appraisers, visit Property Appraisers.
You can also check out related Property Appraisals from Volusia County, Seminole County, Polk County, Pinellas County, and Pasco County.
Former Regional President of Ameris Bank and CEO of Prosperity Bank, current Property Appraiser Eddie Creamer made countless contributions to the community over the last 19 years. He spearheaded the consumer and business real estate financing, small business administration, municipal, agricultural, construction, personal, educational and home equity line of credit lending, as well as investments, financial planning, and traditional banking services in the St. Johns County. He also led his team to elevate customer service and quality, drive technological advancements, increase profitability, and expand products.
SJCPA Contact Information
If you want to reach St Johns County PA to have your property appraised or simply to inquire about other services, here are the details to reach them quickly.
St Johns County PA Website
Visit the official website of St Johns County PA and see all the details you need to know about Florida real estate and properties. On this website, you may apply for an exemption, search property records and maps, search by map, estimate your taxes, stay informed with property appraisal.
St Johns County has 124,300 residential properties, 8,800 commercial properties, 2,100 agricultural properties, and a $30.2 billion taxable county value. Users have the ability to view the property information, zoom and pan the map, turn map layers on and off, as well as print maps.
Property Search
If you are looking for a particular property, you may click on the first tab to load another page. Here, you may search by owner, location address, parcel number, and legal information. Once the search results show, you may choose to share the page, print, and email the search results for easier recording.
Contact Number
For any inquiry, you may reach the St Johns County PA at (904) 827-5500. For general inquiries, you may also send an email to sjcpa@sjcpa.us.
Location
St Johns County PA is located at 4030 Lewis Speedway, Ste 203 St Augustine, Florida 32084. It is open from Monday to Friday at 8:30 a.m. to 5 p.m.
Homestead Exemption
The real estate appraisal and closing services are available in every county in Florida, consisting of 67 counties. With our sophisticated computer technology, you can view your files online 24 hours a day.
FAQ
????What is Property Appraisal?
Real estate appraisal, property valuation, or land valuation is the process of developing an opinion or a ballpark figure of the market value of real estate properties. Real estate transactions often require appraisals because they occur infrequently and every property is unique, specifically their current condition, which is a key factor in property valuation.
????Why do you need a Property Appraisal?
Property Appraisal is used as the basis for mortgage loans, settling estates and divorces, taxation, and other legal matters. Sometimes an appraisal report is used to establish a sale price for a property.
????Who is the St Johns County PA?
The St Johns County PA helps determine the value of a property through examination and research. The office comes up with a detailed report about the property that indicates its value and the reason(s) why it was given such value.
????‍♂️Who is the St Johns Country Property Appraiser?
The current St Johns Country Property Appraiser is Eddie Creamer. He is a former Regional President of Ameris Bank and was also the CEO of Prosperity Bank.
????‍♀️What is a Homestead Exemption?
Homestead exemption is a law that protects the value of the homes of residents from property taxes, creditors, and circumstances caused by the death of the homeowner's spouse. These laws are found in many of the states in the US.
Conclusion
We have provided you with the necessary information about the responsibilities of the St Johns County PA. We hope that this has been helpful to you. If you have any questions, you may leave a comment below.
st johns county property appraiser