Do you have a property in Walton County that you wish to appraise? Are you curious about the property values in this county? This page gives you details on how to check your property values online and get in touch with the Walton County Property Appraiser's office. Meanwhile, if you're interested in appraisers from other counties as well, visit Property Appraiser.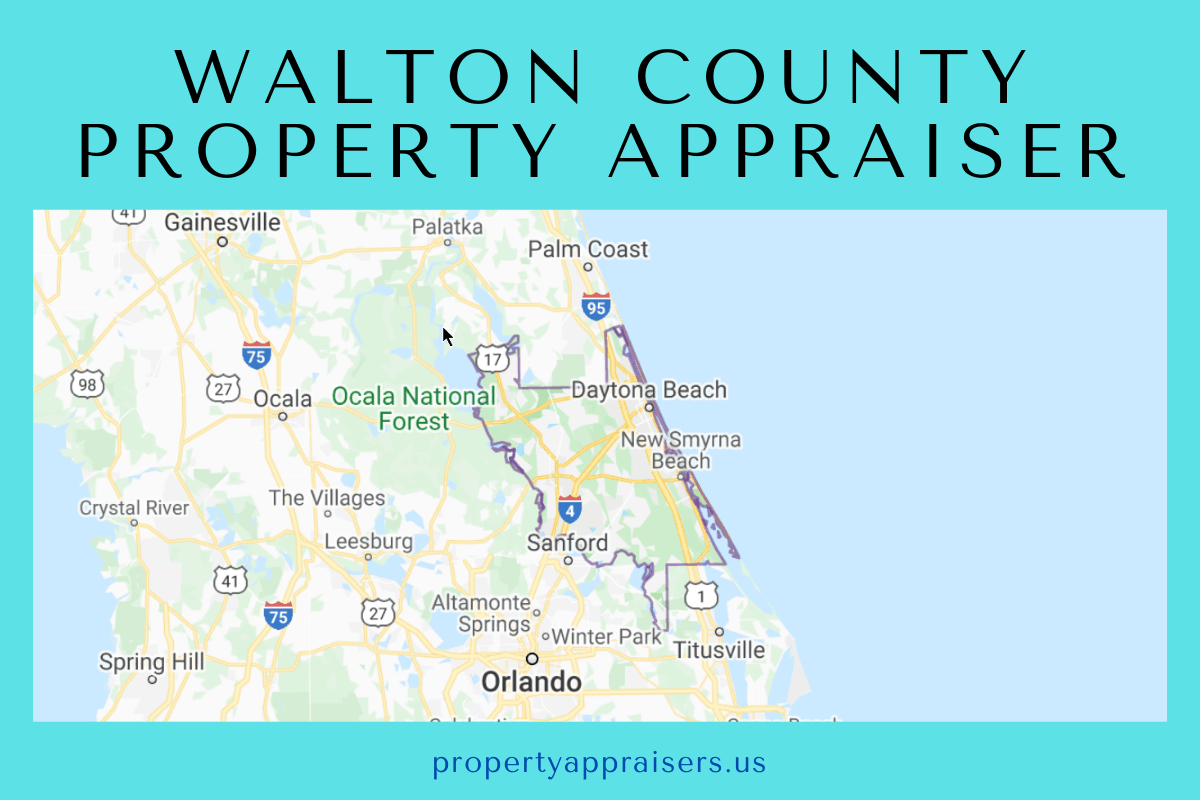 Check Walton County Property Value with Online Tools
Several online tools could help you check your property's value easily and even allow you to track changes in your property's value. Realtor.com would be one such tool.
Here's how you can check your property's value and get updates.
Go to the website

Visit Realtor.com to check your property's value or if you want to find other properties.

Click Home Value

The site allows you to do various searches, so to make sure you are getting details about your property's value, click on the Home Value option before encoding your property details.

Type the address

Type in the address of your property in the search bar and hit Search. You'll get an immediate estimate of the value of your property.

Sign Up to Get Updates

Once the estimated value of your property appears, you will be given the option to sign up. If you want to get regular updates about your property and track changes in its value, it would be best to sign up.
Meanwhile, if it's a commercial property that you want to check, you may visit Commercial Property Appraisal. They would gladly help with your property appraisal.
Important – If you need legal advice regarding your property, go to Nolo. It's always a good idea to get a legal opinion (or even help) about your property, this won't break your bank and can save a lot of time and money in the future.
Visit Walton County Property Appraiser Website
Meanwhile, for a more detailed search about your property, visiting the Walton County property appraiser would be a good idea, but checking out their website first would be even better. Here's how you can check your property's worth from the website.
Go to Walton Property Appraiser's Website

This website gives you an option to check your property's value and find out other properties for sale.

Go to Search Records

From the left-hand menu, click on Search Records, and on the next page, click on "Yes, I accept the above statement" after reading the statement. 

Fill out the form

Fill out the form that appears on the next page. You may search using any of the following information: owner's name, location address, property I.D., neighborhood code. After encoding the necessary information, hit the search button.

Choose what to do with the search result

The search result will contain a wide array of information, including the owner's name, parcel I.D., property I.D., and of course, the value, among others. You have options to share, print, or download the content.
Walton County Property Appraiser's Office Contact

Address
571 US Hwy. 90 East
DeFuniak Springs,
FL 32433

Phone
(850) 892-8123

Fax
(850) 892-8374
Other sections of the Property Appraiser Website
Apart from letting you search properties, the Walton County property appraiser's website also offers you other information about the office of the Walton County Property Appraiser offers. Here's a quick list of what you'll find on the website.
Sale Lists
This page offers you the option to search for properties on sale using a variety of options, like through the Owner Name, Location Address, Parcel Number, Legal Information, Subdivision Name, and Subdivision Plats.
Download Forms
If you want to download forms, then they are in this section. You will find forms like a Request to Combine Properties and a TPP Extension Form, among others.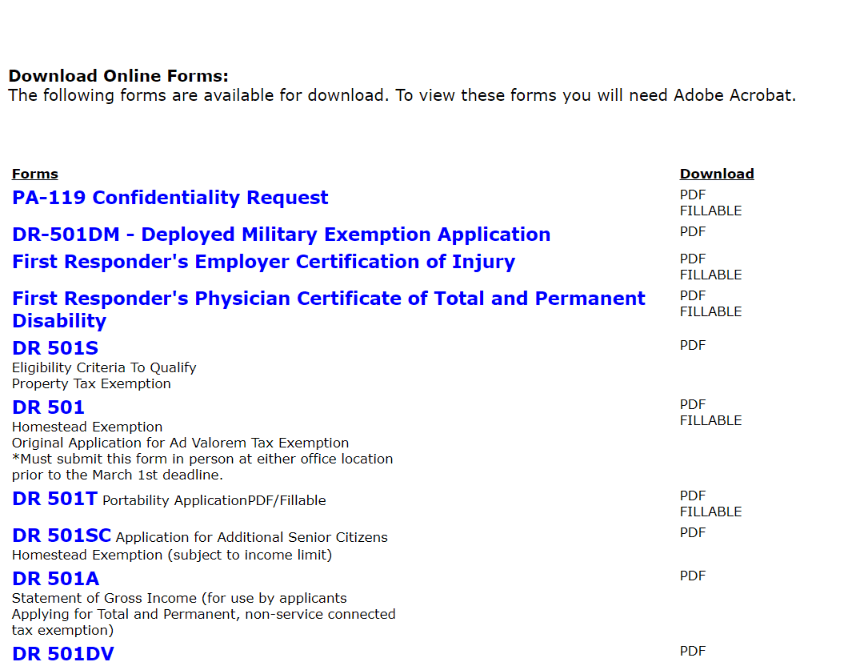 Exemptions
In this section, there will be links to get more information on exemptions, like the Eligibility Criteria, Questions and Answers, Exemption Forms, and Homestead Exemption.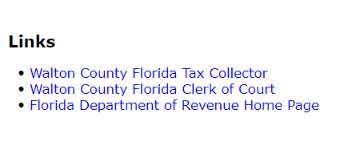 Links
This section gives you links to other government offices or agencies that you might need to reach out to about concerns with your properties.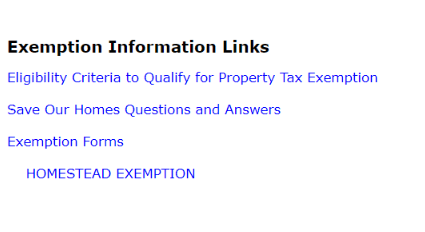 F.A.Qs
What is a tax roll?
A tax roll is an official document or record of a property subject to property tax in a given jurisdiction.
What is a millage rate?
The millage rate would be the amount of tax assessed for each $1,000 of property value. For example, a rate of 10 mills would mean that $10 in tax is levied for every $1,000 assessed value.
What does it mean when a house is a homestead?
A homestead would refer to a house and the surrounding land owned by a family. Typically, the homestead would be a farmhouse, and the land around it devoted to crops or animals.
Walton County Property Appraiser's Office, Website, Map, Search Content
The Walton County Property Appraiser, Patrick P. Pilcher, invites you to visit their website. On the site, the Property Appraiser's office clearly states that their commitment is to perform the duties entitled to them in the Florida constitution. The State of Florida laws state that they should provide prompt, professional, and courteous services to the residents. If you are interested in other property appraisers, then visit Property Appraisers.
You are encouraged to help enhance the Walton County Property Appraiser site's features by sending comments and suggestions. The Property Appraiser asks you to contact or visit the office because serving you is a great privilege. Use the Internet to access the minutes of the Walton County Board of County Commissioners.
Be updated and explore the new appraiser that can assist you with your property. Read Hillsborough County Property Appraiser, Lake County Property Appraiser, and Lee County Property Appraiser for more options.
All About Walton County Property Appraiser Duties
Get in touch with the Home Appraiser's office at (850) 892-8123 to learn more about homestead exemption. A Notice of Commencement is a notarized declaration authorizing and detailing work to be performed, legal description, and the name and address of specific asking for work. The owner needs to sign the Notification of Commencement, and no one else is licensed to sign in his stead.
Before construction commences, there should be a publication of a Copy of the Notification License on the job website. Get the types for a Notification of Commencement from the Walton County Structure Department or any workplace supply shop that brings legal forms. Filing of fictitious name registration with the Office of the Secretary of State is not advisable.
If you are looking for new property appraisers near you, we have it for you. You may check Alachua County Property Appraiser, Broward County Property Appraiser, or Collier County Property Appraiser for more options.
Review Walton County Property Appraiser Home Taxes
Owners need to pay home taxes yearly to the County Tax Collector. If the owner stops working to pay his/her charges, a tax collector offers a Tax Certificate at a date and time marketed. The certificate might in your possession for a minimum of two (2) years but not more than seven (7) years.
The certificate holder needs to request the tax deed sale by presenting the original certificate to the Tax Collector. For additional information about tax certificates, contact the Walton Tax Collector's office. The Tax Collector will certify the tax deed application over to the Clerk, who computes the base quote and charges the certificate holder for the costs of holding the sale.
As soon as you pay the expenses, the Clerk sets a sale date, then informs the certificate holder. The residential or commercial property owner, all lien holders, and the sale are per Florida Statutes. The county releases notices of pending tax deed sales in a newspaper with regional circulation. Tax deed files are available for examination at the Walton County Courthouse, situated at 571 U.
Access County Maps
These maps are available at the Walton Property Appraiser office, and they are real photos. Pictures are taken from high elevations and then replicated to a specific scale for the county's overall understanding. So if you decide to purchase a residential or commercial property in the county, look at these maps in the Walton Home Appraiser workplace. If you require to obtain them, then you can do so in the same office.
So what residential or commercial properties does the Fort Walton Beach Appraiser examine and assess? As per the Walton County PA, all genuine residential or commercial features like land, buildings, components, and any enhancements or adjustments to the area, included in real residential or commercial properties. However, according to Florida Statutes 192.001(12), terms such as 'land' and 'real estate' are all interchangeable and to the same.
Walton County Residential or commercial property Appraisers considers all possessions, products, and other valuables (leaving out automobile products) and which can be by hand had having primary values standard to the items themselves, as tangible personal effects. Mobile Houses & Manufactured Residences are considered as the right home when they are complete in the mobile house owner's land.
Access Title Search
Baffled about title searches? Do not be. Try our Walton county title business. Their personnel are specialists in this location and can close cases quickly. The Walton county title search plan clubbed along with Walton county title insurance coverage makes a great deal. Their customer support and quality are extraordinary.
Account Number
This is found on the top left-hand corner of your expense (the yellow highlighted location for overdue taxes or the green highlighted area for current year taxes). As soon as you have entered your account number click, "go" at the screen's bottom. The next step will take you to the credit card details. Upon finishing your transaction, you will receive a confirmation number.
Do you want to explore other property appraisers near you? Try to read Columbia County Property Appraiser, Duval County Property Appraiser, and Hernando County Property Appraiser.
Owner Call
When searching by name, the spelling must match the name recorded on the Residential or commercial property Appraiser's database for that particular parcel or account. You may browse surname and first preliminary if you are not specific about how the package is.
Search by address
The actual year tax costs will appear. From this point, you might view, print, or pay your tax bill. Please note: The "address search" is strictly restricted to Walton County mailing addresses. P.O. Boxes are not searchable. Note: To browse by parcel address, you should utilize the Residential or commercial property Appraiser's website.
Access Walton Auction Process
The auctions commence at 11:00 a.m., Central Time. The Clerk announces the case number, names of the celebrations associated with the suit, and the property's legal description. The floor is then open for verbal quotes. Each bidder needs to reveal their name with their very first bid. If the bidder is acting in a representative capacity, he needs to determine the party he is representing. The highest bidder posts a non-refundable deposit of a 5% deposit of the Clerk's final bid.
Any staying funds from the deposit fund the judgment. The last payment is due before 4:00 p.m., Central Time, on the day of the sale. The terms of payment are standard unless specified otherwise in the judgment. The amount must be in cash or cashier's check. After the last payment, the bidder needs to likewise pay a computer registry of court charges in addition to the sale amount.
FAQ
What is the duty of Walton County PA?
The Walton County PA is entitled to perform duties designated to him in the Florida constitution. These duties are valuing property(commercial and Residential), Tax collection, and providing information to County residents both online and physically.
How to contact Walton County Property?
The office address is P.O. Box 1300 Tallahassee, FL 32302-1300 (850) 488-9000. You can also call the toll-free line – 1-855-785-8566 or send an email to info@1stNAS.com. From Monday through Friday, 8 a.m.-6 p.m.
Where to pay home taxes in Walton County Property appraiser?
Owners need to pay home taxes yearly to the County Tax Collector. If the owner stops working to pay his/her charges, a tax collector offers a Tax Certificate at a date and time marketed.
Conclusion
You might not have access to the home without authorization from the owner. Any outcome from a property sale is not the responsibility of the Clerk's office. The Clerk's workplace is not authorized to give legal recommendations.
If you need legal guidance, you should obtain it from a lawyer or some other source. Find all the information on the Walton County PA office or website. Any questions are welcome in the comment box below.