Do you have a property in Brevard County that you wish to appraise? Are you curious about the property values in this county? This page gives you details on how to check your property values online and get in touch with the Brevard County Property Appraiser's offices. Meanwhile, if you're interested in appraisers from other counties as well, visit Property Appraiser.
Check Brevard County Property Value with Online Tools
Several online tools could help you check your property's value easily and even allow you to track changes in your property's value. Realtor.com would be one such tool.
Here's how you can check your property's value and get updates.
Go to the website

Visit Realtor.com to check your property's value or if you want to find other properties.

Click Home Value

The site allows you to do various searches, so to make sure you are getting details about your property's value, click on the Home Value option before encoding your property details.

Type the address

Type in the address of your property in the search bar and hit Search. You'll get an immediate estimate of the value of your property.

Sign Up to Get Updates

Once the estimated value of your property appears, you will be given the option to sign up. If you want to get regular updates about your property and track changes in its value, it would be best to sign up.
Meanwhile, if it's a commercial property that you want to check, you may visit Commercial Property Appraisal. They would gladly help with your property appraisal.
Important – If you need legal advice regarding your property, go to Nolo. It's always a good idea to get a legal opinion (or even help) about your property, this won't break your bank and can save a lot of time and money in the future.
Visit Brevard County Property Appraiser Website
Meanwhile, for a more detailed search about your property, visiting the nearest office of the Brevard County property appraiser to talk to a clerk or call the office by phone, would be a good idea, but checking out their website first would be even better. Here's how you can check your property's worth from the website.
Go to Brevard Property Appraiser's Website

This website gives you an option to check your property's value and find out other properties for sale.

Go to Research

There will be a drop-down menu once you click or hover over this category. From the drop-down menu, choose Property Searches.

Fill out the form

Fill out the form the appears on the next page. You may search using any of the following information: owner's name, location address, property I.D., neighborhood code. After encoding the necessary information, hit the search button.

Choose what to do with the search result

The search result will contain a wide array of information, include the owner's name, parcel I.D., property I.D., and of course, the value, among others. You have options to share, print, or download the content.
Brevard County Property Appraiser's Office Contact
Email
appraiser@bcpao.us

Address:
Brevard County Property Appraiser,
P.O. Box 429 Titusville
FL 32781-0429

Phone
(321) 264-6700

Fax
(321) 264-6954
Other Sections of the Property Appraiser Website
Apart from letting you search properties, the Brevard County property appraiser's website also offers you other information about like branch offices and public records access. There are even map images. Besides, the Brevard County Property Appraiser offers the user accuracy in the appraisal f your property. Here's a quick list of what you'll find on the website.
Research
This page offers you a wide range of information from maps to tax rolls. This section contains Property Search, Property Data, Charts & Graphs, MapView, MapData, Tax Roll Statistics, EagleView, Subdivision Plats, Millage, All Maps & Data Aerial Datasets.
Exemption
If you want to know the exemptions available in Brevard County, then this section has you covered. It gives you data on exemptions involving the following: Widow/Widower, Homestead Fraud, Homestead, Non-Profit, veterans, Conservation, Seniors, and Portability.
Tangible
This section gives your informant about tangible properties as well as forms that you will need. Here are the sub-sections: All Tangible, Forms, File Return, and Calendar.
Form
Before visiting the offices, you can get forms from this section. You'll find most of the forms you need for Agriculture, Confidentiality, Review Request, Homestead, Tangible, Split/Combine, Non-Proft, Income & Expense, Brochures, Conservation, Address Change, and Appeals. You also have the option to View All Forms on a single page.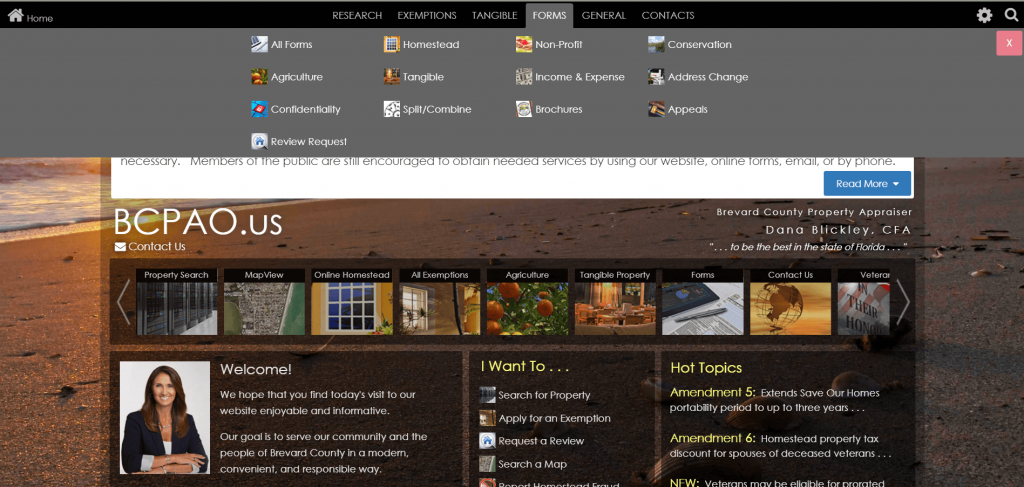 General
All other information about Brevard County properties are in this section: Assessment Caps, Veterans, Your Property Rights, Meet Dana, News, Agriculture, TRIM Insert, Appraiser's Job, Appeals, Important Dates, Confidentiality, Budget & Funding, Frequent Questions, and Product Payment.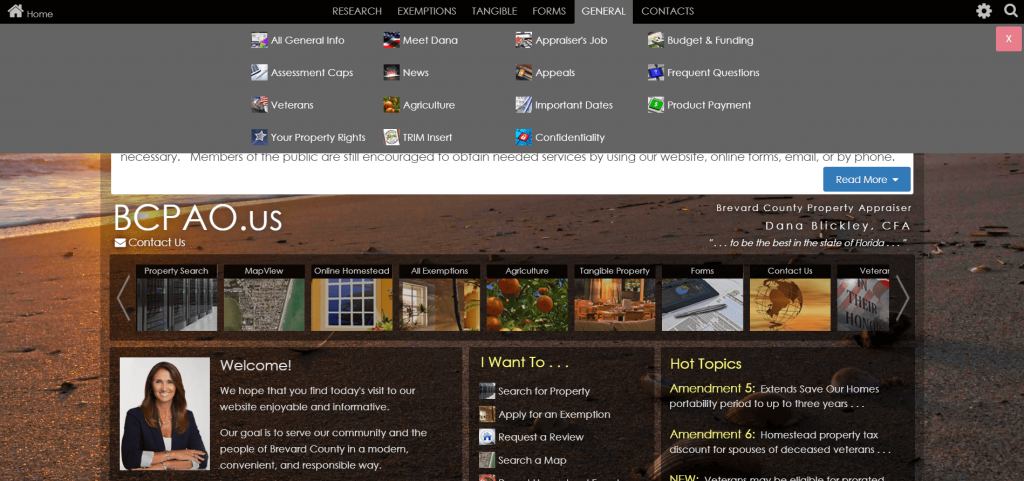 F.A.Qs
What is a tax roll?
A tax roll is an official document or record of a property subject to property tax in a given jurisdiction.
What is a millage rate?
The millage rate would be the amount of tax assessed for each $1,000 of property value. For example, a rate of 10 mills would mean that $10 in tax is levied for every $1,000 assessed value.
What does it mean when a house is a homestead?
A homestead would refer to a house and the surrounding land owned by a family. Typically, the homestead would be a farmhouse, and the land around it devoted to crops or animals.
Brevard County Property Appraiser's Office, Website, Map, Search Content
Property Appraiser of Brevard County is striving to be the best in providing accurate, uniform, and equitable assessment roll in the State of Florida. They make sure that their commitment to excellence in terms of the property valuation is served correctly. And to perform these duties at the possible lowest cost to the taxpayers. If you want to find out the appraiser nearest you, visit Property Appraisers.
All About Brevard County's PA
All the tangible and real property is valued by a property appraiser every year for Florida's assessment purposes. According to Florida law, in Brevard County, all parcel property was inspected by one of BCPA's appraisers.
It is done once every five years. Other inspections are done remotely with street-level photography, aerial imagery, other off-site research, and some are processed on-site.
The category of inspection depends on the quality of available imagery. Also, with the accessibility of the property, the complexity of the property, tree cover, and other factors. Brevard County PA has the goal of being unpretentious. At the same time, abiding with the law in building an equitable and accurate assessment roll.
The individual property values may adjust between the scheduled appraisals due to the sales activities. Or other variables that may affect the real estate values of the individual's neighborhood. The sales of similar properties have a reliable indicator in the real estate market in the area.
Review Property Value
To determine the value of a property, the appraiser needs to consider some factors. These are the other properties' recent sales, the cost to replace the property, rental income. As well as the property may earn, the cost to operate the property and to keep in repair. Also, the other applicable factors that will affect the value of the property.
The property appraiser has three primary techniques to consider: the cost approach, the income approach, and the sales comparison approach. These techniques result in a large number of properties that will be involved in different categories. The appraiser needs to engage with each method's applicable features and apply uniform rates to the same types of properties in the process, which is known as the mass appraisal.
Tax rates and the appraised value
Property appraisers are not tax collectors, and they have nothing to do with the amount of taxes collected. Property owners must not only be interested in the value that the property appraisers place on your property. But to how it determined the amount of tax that you must pay.
How it works
Suppose a property appraiser has assessed the value of your home to be $55,000. And you are applying for and found out that you are eligible for the $25,000 homestead exemption. The $25,000 is deducted from your home's assessed value and will leave a taxable value of $30,000.
Other property appraisers in Florida might be near your location. Some of them are Monroe County Property Appraiser, Orange County Property Appraiser, and Pasco County Property Appraiser.
Locations and contact numbers
Primary Contact Information- Phone: (321) 264-6700, Fax: (321) 264.6954, Email: appraiser@bcpao.us, Mail: Brevard County PA, P.O. Box 429 Titusville FL 32781-0429
Merritt Island- Phone: (321) 454-6620, Fax: (321) 454-6618, Email: appraiser@bcpao.us, Location: Brevard County Services Complex, Merritt Island 2575 N Courtenay Pkwy, Merritt Island, FL 32953
Viera- Phone: (321) 690-6880, Fax: (321) 690-6883, Email: appraiser@bcpao.us Location: Brevard County Government Center2725 Judge Fran Jamieson Way Viera Florida 32940
Melbourne- Phone: (321) 255-4440, Fax: (321) 255-4439, Email: appraiser@bcpao.us Location: Brevard County South Services Complex 1515 Sarno Road Melbourne, Florida 32935
Titusville- Phone: (321) 264-6700, Fax: (321) 264-6954, Email: appraiser@bcpao.us Location: Brevard County Government Complex, North400 South Street Titusville FL 32780, 5th Floor
Palm Bay- Phone: (321) 952-4574, Fax: (321) 952-4573, Email: appraiser@bcpao.us Location: Brevard County Service Complex Palm Bay 450 Cogan Drive, SE Palm Bay, Florida 32909
Brevard County PA Search
Upon visiting the Brevard County appraiser's website, you can see the search portion at the upper left corner of your screen. The site has several categories to make your search easier.
These search categories are; property search, property data, charts & graphs, a map view, map data, tax roll statistics, eagle view, subdivision plats, millage, all maps & data, and aerial dataset. As you choose the category where you want to search for your inquiry, you will need to fill in the data asked to generate the result, details, and map of your search.
Leon County Property Appraiser, Manatee County Property Appraiser, or Sumter County Property Appraiser might have better appraisals of the property. Try reading our articles for them.
Access Brevard County PA Website
Brevard County PA office strives to make its website the most accessible. It can increase the diverse audience that uses a variety of devices, browsers, languages, platforms, screen sizes, and assistive technology. Their website is made for everyone in mind, including those with disabilities and accessibility preferences, and hoping for continuous evolution.

As we all know, the standard of technology continuously changes, so will the website of BCPAO. As they intend to exceed the requirements of the world wide web consortium (W3C), the web content accessibility guidelines (WCAG) 2.0 level AA with the compliance with the Americans with Disability Act (ADA) Title II, and to embrace the web accessibility initiative's accessible rich internet applications (WAI-ARIA) standards.
Access Third-party links
Brevard County website has links unaffiliated with the BCPAO, which does not have control and does not endorse any of these websites, police their accessibility, or audit their content. These links are websites that visitors can use for their convenience.
Using the third-party sites that BCPAO links are optional. BCPA website strives to provide the most accessible public records to increase and widen the variety of audiences they have in an enjoyable, safe, and financially-responsible way as it can be.
Check the Sarasota County Property Appraiser, Marion County Property Appraiser, and Lee County Property Appraiser. These might be near you.
Review Homestead Exemptions
The homestead exemption gives a reduction to qualified applicants in their homes' taxable value of $25,000. Applying for the homestead exemption can submit any time at any year. But it must submit by March 1 of the year, when the benefit will be applied.
When the application is approved, the homestead exemption will automatically renew every year as long as the property's ownership and residency conditions are folklore.
In article VII, a section of the Florida constitution states that all the property owners are on January 1. Those who have equitable or legal title to the real estate and maintains it as their permanent residence will be entitled to a $25,000 homestead exemption.

Therefore, the percentage of ownership interest is less than 100%. The homestead exemption allows any individual or family unit. Applicants must qualify on or before January 1 and must apply with the property appraiser on or before March 1 of the year as it is when the benefit will be used.
Required Documents for all applicants:
A permanent resident alien card if you are not a US citizen.
Copy of trust agreement or a copy of a recorded memorandum of trust if the property is in faith.
A letter from the proper governmental agency verifies that the taxpayer does not receive a residency-based tax benefit on the property if it owns property in any other Florida County, State, or US Territory.
A copy of the recorded deed or tax bill of the applicant for property identification purposes.
Registration(s) or title(s) for manufactured home if the homestead is a manufactured home.
Florida driver's license or a Florida identification card (if you do not drive).
Florida vehicle registration for owned vehicles or registered to your business.
If you registered to vote, a Brevard County voter registration card.
Social Security card or another official document that includes the social security number.
Review Homestead Fraud
This is a crime that costs taxpayers millions of dollars each year across Florida. The property appraiser's office recovered over seven-million dollars of taxpayers since the company began tracking their homestead enforcement results in June 1999. The taxpayers receive certain property tax exemptions, the burden in tax shifts to all the other taxpayers.
Read about other appraisers that could help you like, St Johns County Property Appraiser, Charlotte County Property Appraiser, and Escambia County Property Appraiser.
FAQ
What is the duty of Property Appraisers?
Striving to be the best in providing accurate, uniform, and equitable assessment roll in the State of Florida is the Brevard County PA office's goal. They make sure that their commitment to excellence in terms of the property valuation is served correctly and to perform these duties at the possible lowest cost to the taxpayers.
How to find if you have an upcoming court date in Brevard County, PA?
VAB hearings before the special magistrate are informal. An authorized attorney or agent will represent you at the hearing but is not required. The best way to prove your case is to provide valid evidence to support your position.
How do Property Appraisers verify qualification for additional widow exemption?
The verification of you is qualified to receive the widow/widower exemption will be sent via mail at you applied through mail or in-person as you visit one of the Brevard County offices.
Conclusion
The Brevard County office strives hard to provide the most accessible website to its visitors. Any person will have convenience in communicating and inquiring about their concerns; with their five offices, you can quickly come and visit them to apply for the exemption and ask for assistance to know your property's market value.
Visiting their website is the smartest step to discover their company. The site contains all the categories you want to learn about and search for the properties' sale. For any concerns, feel free to comment below and contact us.