Property Appraiser for Manatee County in the U.S. state of Florida with a total land area of 2,313 km² and a population of 385,571 in 2017. Its county seat is located in Bradenton, which happens to be the largest city. Here we give you significant information about the Manatee County PA. If you want to check the nearest appraiser to your property, visit Property Appraisers.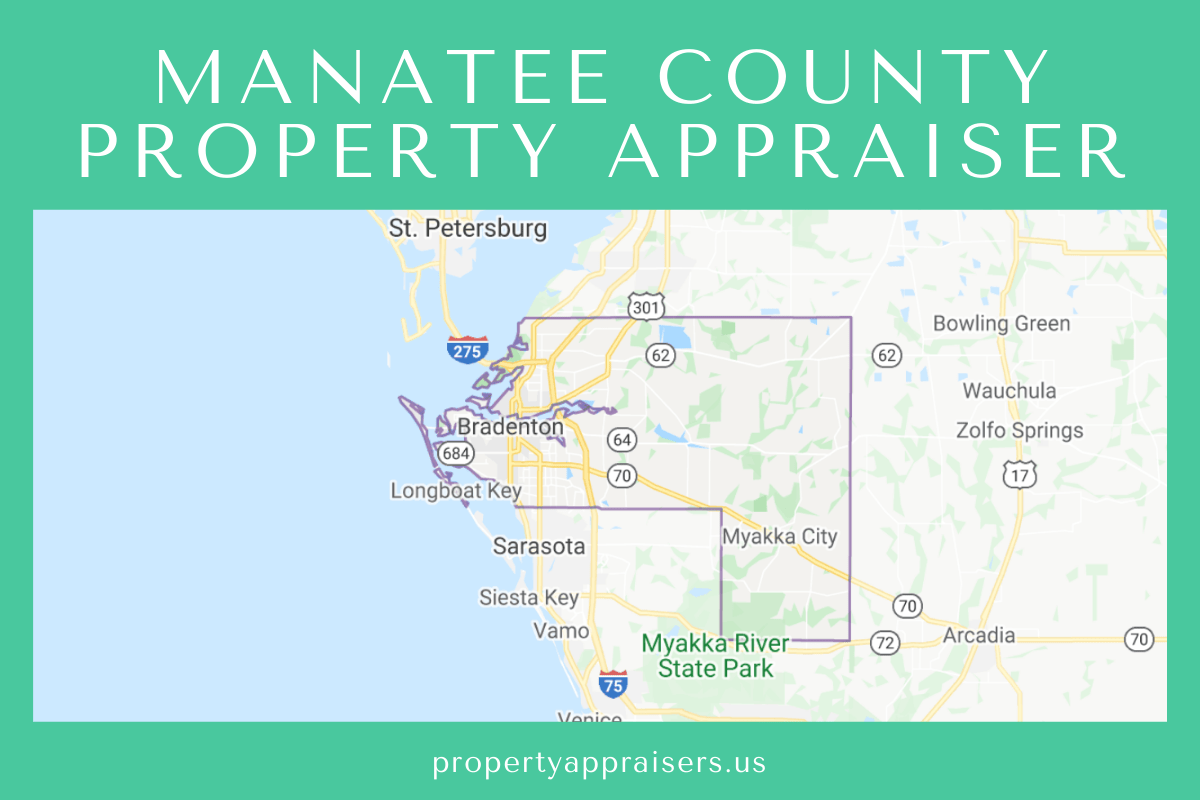 Utilizing the search options, you can check your options of land use, zoning links to residential or commercial property appraiser sites. To search for properties, you may use the owner's last name and first name, address number and street name as well as parcel ID to find valuable information on any property in Manatee County.
In this article, learn how to contact the Manatee County PA, learn about property appraisal, submit online applications for exemptions, or even report fraudulent activities regarding homestead exemptions.
Try to explore other appraisers such as Brevard County Property Appraiser, Duval County Property Appraiser, Miami Dade County Property Appraiser, Hillsborough County Property Appraiser, and Lee County Property Appraiser.
Meet Charles Hackney, The Property Appraiser
Backed with 15 years of experience in private real estate appraisal, Charles E. Hackney held office after being elected in 1992 as Manatee County PA. Then, the Florida Department of Revenue conferred his designation of Certified Florida Appraiser. He earned public trust based on his experience, integrity, and professionalism for about 26 years.
Charlie is an Air Force veteran and lifelong Floridian, Charlie committed to serving his community. In 1982, he took a gubernatorial appointment to the Manatee Community College Board of Trustees.
After his term, he served as a Director on the Manatee Community College Foundation Board for 20 years. He was also a former president and board member of the Kiwanis Club of Bradenton as well as a member of the Hernando DeSoto Historical Society, in which he portrayed Hernando DeSoto in 1986.
Charlie has pledged to operate the Property Appraiser's Office in an efficient and cost-effective manner. While providing the best quality service to citizens of Manatee County.
Manatee County PA property search
If you are looking for a particular property, you may click on the Property Search tab. Then, enter the owner's last name, street address, parcel ID, and property type. You may also try the Advanced Search, which would start the search using various key searches.
Manatee County PA website
Visit the official website of Manatee County PA and see all the details you need to know about Manatee's real estate and properties. On this website, you may search for properties, submit online exemption, download forms, check on valuable realty information and statistics, report exemption frauds, among others.
Check out these other related articles: Collier County Property Appraiser, Hillsborough County Property Appraiser, Miami Dade Property Appraiser
Manatee County PA phone number
You may reach the MCPA's Office by telephone at (941) 748-8208 during office hours from Monday to Friday between 8:30 am and 5:00 pm EST
Manatee County PA location
The Manatee County PA's main office is located at 915 4th Ave. W.
Bradenton, Florida 34205, which is open from Monday to Friday from 8 a.m. to 5 p.m.
Manatee County PA Homestead Exemption
Manatee's Homestead exemption is a constitutional guarantee that reduces the assessed value of a residential property by up to $25,000 for qualified permanent residents.
The legal owner urged to file for homestead exemption as soon as they occupy the residence. And must establish permanent Florida residency on or before January 1.
The application may be done online or in-person at the Property Appraiser's office no later than the March 1 deadline.
Although the first option preferred. Also, the initial homestead application will also serve as the application for the additional homestead exemption.
Discover where you can trust your property to be appraised. There's Osceola County Property Appraiser, Pinellas County Property Appraiser, Volusia County Property Appraiser, Putnam County Property Appraiser, St. Lucie County Property Appraiser, and many other county appraiser.
FAQ
????What is the task of Manatee County PA?
The main task of the Manatee County PA is to help determine the value of a property through examination and research. The office has to come up with a detailed report about the property that indicates its value and the reason(s) why it was given such value.
????How do I contact the Manatee County PA?
You can contact the Manatee County PA Office by telephone via (941) 748-8208 during office hours. You may call them from Monday through Friday, 8:30 am to 5:00 pm EST
Conclusion
We have provided you details about the MCPA's website. Nevertheless, if have any questions, you may always contact us by leaving a comment below.
manatee county property appraiser