Do you have a property in Manatee County that you wish to appraise? Are you curious about the property values in this county? This page gives you details on how to check your property values online and get in touch with the Manatee County Property Appraiser's office. Meanwhile, if you're interested in appraisers from other counties as well, visit Property Appraiser.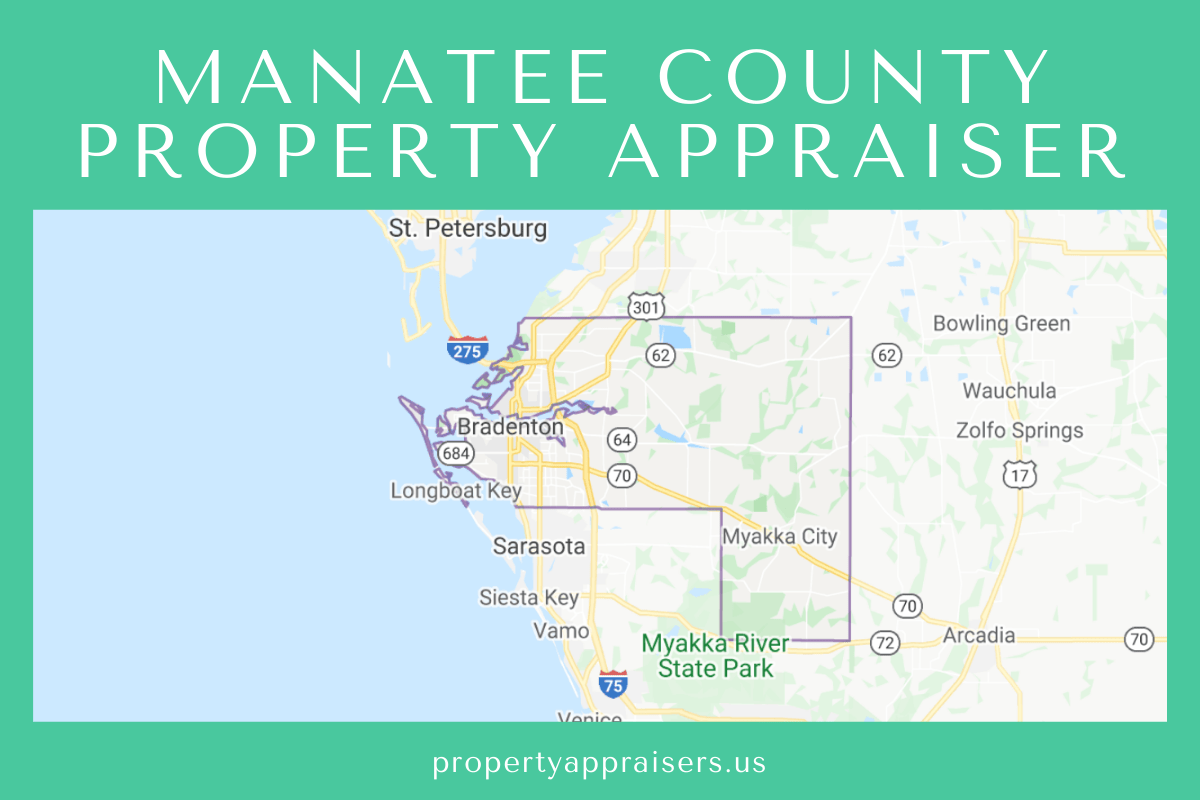 Check Manatee County Property Value with Online Tools
Several online tools could help you check your property's value easily and even allow you to track changes in your property's value. Realtor.com would be one such tool.
Here's how you can check your property's value and get updates.
Go to the website

Visit Realtor.com to check your property's value or if you want to find other properties.

Click Home Value

The site allows you to do various searches, so to make sure you are getting details about your property's value, click on the Home Value option before encoding your property details.

Type the address

Type in the address of your property in the search bar and hit Search. You'll get an immediate estimate of the value of your property.

Sign Up to Get Updates

Once the estimated value of your property appears, you will be given the option to sign up. If you want to get regular updates about your property and track changes in its value, it would be best to sign up.
Meanwhile, if it's a commercial property that you want to check, you may visit Commercial Property Appraisal. They would gladly help with your property appraisal.
Important – If you need legal advice regarding your property, go to Nolo. It's always a good idea to get a legal opinion (or even help) about your property, this won't break your bank and can save a lot of time and money in the future.
Visit Manatee County Property Appraiser Website
Meanwhile, for a more detailed search about your property, visiting the Manatee County property appraiser would be a good idea, but checking out their website first would be even better. Here's how you can check your property's worth from the website.
Go to Manatee Property Appraiser's Website

This website gives you an option to check your property's value and find out other properties for sale.

Go to Property Searches

Clicking the Property Search menu immediately directs you to where you should encode property information. 

Fill out the form

Fill out the form the appears on the next page. You may search using any of the following information: owner's name, location address, property I.D., neighborhood code. After encoding the necessary information, hit the search button.

Choose what to do with the search result

The search result will contain a wide array of information, including the owner's name, parcel I.D., property I.D., and of course, the value, among others. You have options to share, print, or download the content.
Manatee County Property Appraiser's Office Contact
Email
appraisal@manateepao.com

Address
Manatee County Property Appraiser,
P.O. Box 1338
Bradenton, FL 34206

Phone
(941) 748-8208

Fax
(941) 742-5664
Other sections of the Property Appraiser Website
Apart from letting you search properties, the Manatee County property appraiser's website also offers you other information about the office of the Manatee County Property Appraiser offers. Here's a quick list of what you'll find on the website.
Property Search
This page offers you a wide range of information from maps to tax rolls. This section contains Property Search, Property Data, Charts & Graphs, MapView, MapData, Tax Roll Statistics, EagleView, Subdivision Plats, Millage, All Maps & Data Aerial Datasets.
Exemptions/Classifications
If you want to know the exemptions available in Manatee County, then this drop-down menu has you covered. It gives you data on exemptions involving the following: Additional Homestead Exemption, Exemptions & Save Our Homes, Military/Veteran, Disability, Low Income Senior Exemptions, and Portability of Save Our Homes.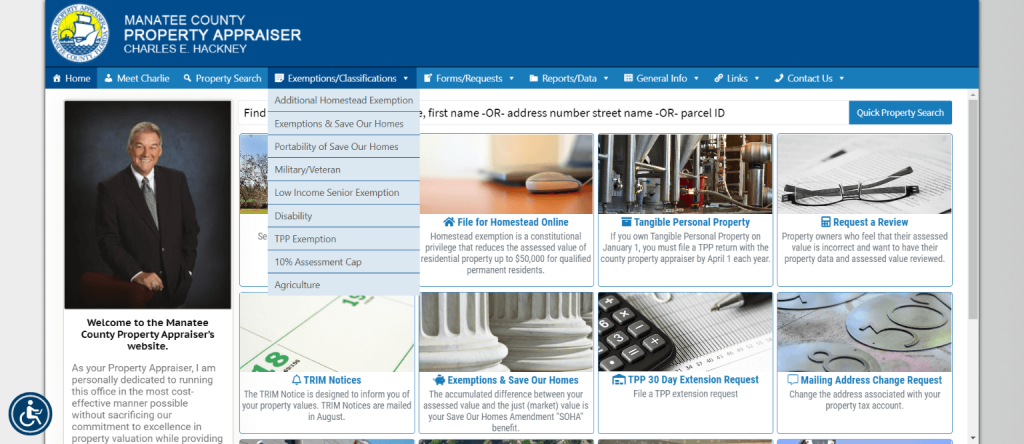 Reports/Data
This section gives you information on different topics, like CADA Reports and Data, tax Roll Data, Code Listings, and Statistic and Owner Information.
Forms/Requests
From this section, you can download most of the forms you need for Exemptions, TPP business Forms, TPP 30 Day Extension Request, Real Property Forms, Custom Data Requests, Change of Address, Request a review, and Report exemption fraud.
General
All other information about Manatee County properties are in this section: Property Search Tips, Estimating Your Taxes, TRIM Notices, Value Adjustment Board, Tangible Personal Property, Imprtnat Dates, ADA Compliance, Public Records, Bids/Budgets, Definitions, and Property Owner Bill of Rights.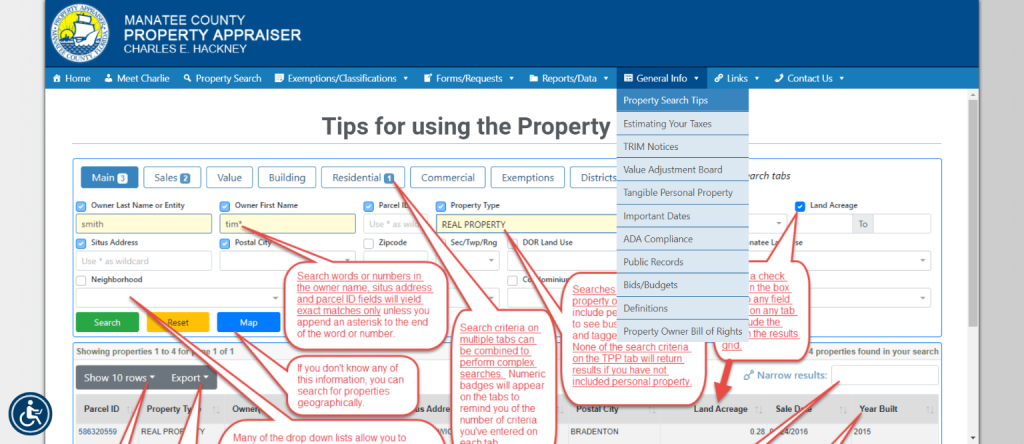 F.A.Qs
What is a tax roll?
A tax roll is an official document or record of a property subject to property tax in a given jurisdiction.
What is a millage rate?
The millage rate would be the amount of tax assessed for each $1,000 of property value. For example, a rate of 10 mills would mean that $10 in tax is levied for every $1,000 assessed value.
What does it mean when a house is a homestead?
A homestead would refer to a house and the surrounding land owned by a family. Typically, the homestead would be a farmhouse, and the land around it devoted to crops or animals.
Manatee County Property Appraiser's Office, Website, Map, Search Content
Property Appraiser for Manatee County in the U.S. state of Florida with a total land area of 2,313 km² and 385,571 in 2017. Its county seat is located in Bradenton, which happens to be the largest city. Here we give you significant information about Manatee County, PA. If you want to check the nearest appraiser to your property, visit Property Appraisers.
Utilizing the search options, you can check your land use options, zoning links to residential or commercial property appraiser sites. To search for properties, you may use the owner's last name and first name, address number, and street name, as well as parcel ID, to find valuable information on any property in Manatee County.
In this article, learn how to contact the Manatee County PA, learn about property appraisal, submit online applications for exemptions, or even report fraudulent activities regarding homestead exemptions.
Try to explore other appraisers such as Brevard County Property Appraiser, Duval County Property Appraiser, Miami Dade County Property Appraiser, Hillsborough County Property Appraiser, and Lee County Property Appraiser.
All About The Property Appraiser
Backed with 15 years of private real estate appraisal experience, Charles E. Hackney held office after being elected in 1992 as Manatee County PA. Then, the Florida Department of Revenue conferred his designation of Certified Florida Appraiser. He earned public trust based on his experience, integrity, and professionalism for about 26 years.
Charlie is an Air Force veteran and lifelong Floridian; Charlie is committed to serving his community. In 1982, he took a gubernatorial appointment to the Manatee Community College Board of Trustees.
After his term, he served as a Director on the Manatee Community College Foundation Board for 20 years. He was also a former president and board member of the Kiwanis Club of Bradenton and a member of the Hernando DeSoto Historical Society, in which he portrayed Hernando DeSoto in 1986.
Charlie has pledged to operate the Property Appraiser's Office efficiently and cost-effectively. At the same time, providing the best quality service to citizens of Manatee County.
Access Manatee County Property Search
If you are looking for a particular property, you may click on the Property Search tab. Then, enter the owner's last name, street address, parcel ID, and property type. You may also try the Advanced Search, which would start the search using various key searches.
Manatee County PA website
Visit the Manatee County PA's official website and see all the details you need to know about Manatee's real estate and properties. You may search for properties on this website, submit online exemption, download forms, check on valuable realty information and statistics, and report exemption frauds, among others.
Check out these other related articles: Collier County Property Appraiser, Hillsborough County Property Appraiser, Miami Dade Property Appraiser.
Manatee County PA phone number
You may reach the MCPA's Office by telephone at (941) 748-8208 during office hours from Monday to Friday between 8:30 am and 5:00 pm EST
Manatee County PA location
The Manatee County PA's main office is located at 915 4th Ave. W.
Bradenton, Florida 34205, which is open from Monday to Friday from 8 a.m. to 5 p.m.
Review Homestead Exemption
Manatee's Homestead exemption is a constitutional guarantee that reduces a residential property's assessed value by up to $25,000 for qualified permanent residents.
The legal owner urged to file for homestead exemption as soon as they occupy the residence. And must establish permanent Florida residency on or before January 1.
The application may be done online or in-person at the Property Appraiser's office no later than the March 1 deadline.
Although the first option is preferred, the initial homestead application will also serve as the additional homestead exemption application.
Discover where you can trust your property to be appraised. Osceola County Property Appraiser, Pinellas County Property Appraiser, Volusia County Property Appraiser, Putnam County Property Appraiser, St. Lucie County Property Appraiser, and many other county appraiser.
FAQ
What is the task of Manatee County PA?
The Manatee County PA's main task is to help determine the value of a property through examination and research. The office has to come up with a detailed report about the property that indicates its value and the reason(s) why it was given such value.
How do I contact Manatee County PA?
You can contact the Manatee County PA Office by telephone via (941) 748-8208 during office hours. You may call them from Monday through Friday, 8:30 am to 5:00 pm EST
Conclusion
We have provided you details about the MCPA's website. Nevertheless, if you have any questions, you may always contact us by leaving a comment below.manatee county property appraiser