Do you have a property in Alachua County, Florida that you wish to appraise? Are you curious about the property values in this county? This page gives you details on how to check your property values online and get in touch with the Alachua County Property Appraiser's office. Meanwhile, if you're interested in appraisers from other counties as well, visit Property Appraiser.
Check Alachua County Property Value with Online Tools
Several online tools could help you check your property's value easily and even allow you to track changes in your property's value. Realtor.com would be one such tool.
Meanwhile, if it's a commercial property that you want to check, you may visit Commercial Property Appraisal. They would gladly help with your property appraisal.
Important – If you need legal advice regarding your property, go to Nolo. It's always a good idea to get a legal opinion (or even help) about your property, this won't break your bank and can save a lot of time and money in the future.
Visit Alachua County Appraiser Website
Meanwhile, if you are after the accuracy, correctness, reliability, validity, and completeness of appraisal information about your property, visiting the Alachua Florida property appraiser would be a good idea. However, checking out their website first would give you a basic understanding of pertinent details involving your property. Here's how you can check your property's worth from the website.
Other Sections of the Property Appraiser Website
Apart from letting you search properties, the Alachua property appraiser's website also offers you other information like contact information of Alachua County offices in Florida and even the Alachua County Social Services.
Do take note that the Alachua Property Appraiser's Office assumes no liability in the use or misuse of public information. Meanwhile, here's a quick list of what you'll find on the website.
Property Searches
In this, there are three options. The Property Search allows you to check the value of specific properties in Alachua. If you're interested in the purchase of properties, the Property Sales Search is where you should go. Meanwhile, if you want to compare prices and other property information, go to the Property Comparison Search.
Tangible Property Menu
The Alachua property appraiser's website also gives you information about tangible properties with sub-sections for Tangible Property Search, Frequently Asked Questions, Helpful Hints and Suggestions, Economic Life Gude, Tangible Depreciation Guide, and Tangible Personal Property Forms.
Search Help
This section mostly defines terms that you must be familiar with to do searches. If, for instance, there is certain information required for a search that you can't understand, then you can resort to this section. The same goes if you see terms from search results that you don't understand. This section s further divided into three: Sales Search Help, Property Search Help, and Appraisal Definition.
Form
From this section, you can download most of the forms you need for Exemptions, Tangible Personal Property, Agricultural Property, and Property Ownership. You also have the option to View All Forms on a single page.
Tax Roll
Apart from details about tax roll, this section provides you tax information related to properties in Alachua. You can get 2020 Millage Rates, Alachua Annual Report, DOR Tax Roll Data, Tax Roll Certifications, and even Download CAMA data.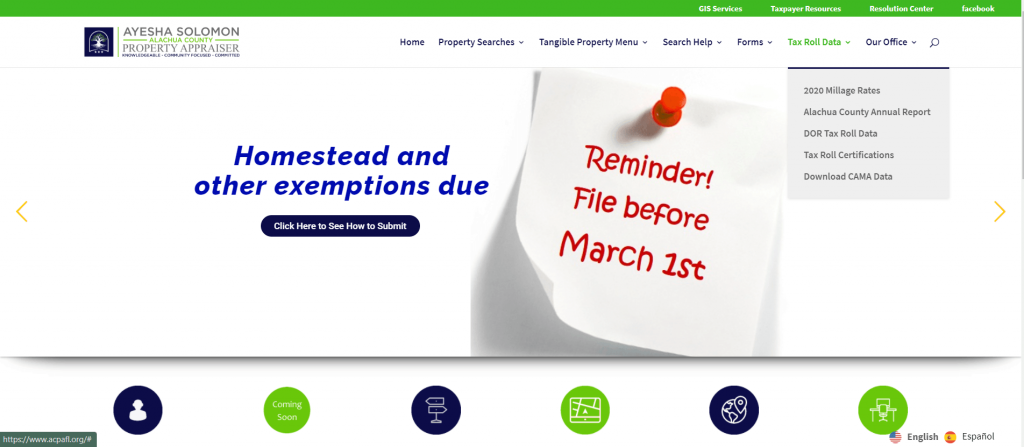 F.A.Qs